Hurlstone Park Wanderers welcomes Super 6 Soccer support for 2018 Season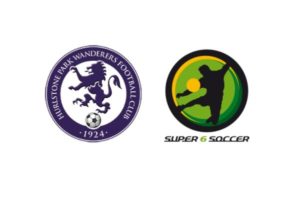 Hurlstone Park Wanderers are pleased to welcome "Super 6 Soccer" as a club sponsor for season 2018.  Generally accepted as the best and most popular outdoor 6 a side competition in the Inner West, Super 6 Soccer has been running outdoor 6 a side competition's all year round for over 18 years.  Super 6 Soccer caters for both adult and junior competitions with professional referees, facilities and venues.
"Many of our players play in the Super 6 Soccer competition and the community culture and family atmosphere, which we foster at our club, is clearly evident" says Mark Higgins, President, Hurlstone Park Wanderers. "We are often asked about 6 a side options and competitions like Super 6 Soccer provides good ways for people from different backgrounds to get involved in football and we are happy to recommend Super 6 Soccer to our members"
"At Super 6 Soccer we know that many players want to play football for a variety reasons be it socially, to complement training, as great way to keep fit and of course for competition. We aim to be able to provide an option for year-round football to the Hurlo Community, particularly when the winter competition finishes and everybody wants to continue to play in the spring and summer months" says Leo Cirillo, Founder, Super 6 Soccer. "We are very happy to be supporting the Hurlstone Park Wanderers in 2018. I played with the club back in the 1970's for many years, and It is great to see the growth of the club to what it is today"

About Super 6 Soccer
Super 6 Soccer offers small sided social soccer to all that love to play football including competitions for All Age Men, All Age Women, Over 30 Women, Over 35 men, over 45 men, Adult mixed and all Juniors from under 6 to under 18. Field size and goal dimensions are unique and they allow for more open, free flowing play. The mid-sized hockey style goals ensure that scoring still requires the appropriate level of skill. Spring competition registrations opens 1 June, 2018.
Locations: Centenary Park, Croydon (5 min from Bunnings at Ashfield), Heffron Park, Maroubra, Kareela oval, Kareela and Eric Mobs reserve, Castle Hill
For more information visit: http://www.super6soccer.net
Email Super 6 at info@super6soccer.com.au to get a reminder about their next competition that starts in September 2018.
Interested in Sponsoring Hurlstone Park Wanderers for Season 2018
Hurlstone Park Wanderers is a not-for-profit local sporting organisation and one of the    largest football clubs in the Canterbury District. Sponsorship opportunities are available to businesses and organisations. By sponsoring the club, you are supporting a leading local sporting club and making a vital contribution to our community. Sponsorship creates goodwill and links your business with positive community experiences.
Sponsorship allows for investment in equipment and facilities to support our players and ensure a successful future. It is an opportunity to have your brand associated with a community run club with over 1400 registered players.
If you are interested or know of any business that would be interested in sponsoring the   Hurlstone Park Wanderers, please contact: sponsorship@hurlstoneparkwanderers.com.au
Comments are closed